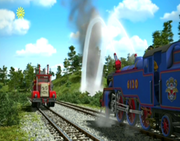 Too Many Fire Engines is the sixteenth episode of the seventeenth season.
When a team of railway inspectors come to the Island of Sodor, they question whether Sir Topham Hatt needs two fire engines. This causes concern for Sodor's fire fighting team, Flynn and Belle. When Belle beats Flynn to two fires in a row, Flynn really starts to wonder if he is a Really Useful engine or not. He tells Belle to take his place on guard at the Ulfstead Castle Fireworks display and sulks in his shed. But when another fire starts on the same night, Flynn races to put it out, proving Sir Topham Hatt really does need two fire engines after all.
Some dockworkers also speak.
Ben Small takes over the role of Flynn in this episode.
In the UK version, The fade effects are missing.
The air date of this episode was held back until the 5th November to coincide with Guy Fawkes Night.
When Flynn sets off for Wellsworth, he does not have his trailer. However, he mysteriously gains it on his way there.
The animators forget to animate Salty's face, when Flynn arrived at the docks to put out the fire.
How did Rocky and Butch get the emergency alerts?
When Belle leaves to go to the first fire, there is nobody in her cab.