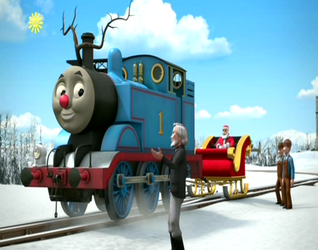 Santa's Little Engine
is the eighteenth episode of the seventeenth season.
Plot
Sir Robert Norramby wants the Fat Controller to act as Santa Claus for the last day of the Ulfstead Christmas Fair. The Fat Controller agrees, until the earl wants him to travel in an old fashioned sleigh. The Fat Controller is sure he doesn't know how to drive a sleigh and tries to make Winston look like one. This fails and Sir Robert sends Thomas to bring a real sleigh. After the sleigh is unloaded, Thomas accidentally bumps into it. The sleigh slips down the hill, but Thomas goes after it. When fallen branches encircle his funnel, Thomas looks like a proper reindeer! Sir Robert gives him a red nose and Thomas and the Fat Controller go to the fair wishing all the children a very merry Christmas.