No Snow for Thomas is an upcoming episode from the seventeenth season
It is a snowy day, but Thomas doesn't want to wear his snow plow. So he decides to hide it on a siding and pretends he doesn't know where it is. Sir Topham Hatt has no choice but to leave Thomas in his shed and send Emily out to clear the tracks instead. But when Thomas sees Emily having fun in the snow and taking Annie and Clarabel for a ride, leaving Thomas alone in the sheds, he feels like he's missing out. Eager to join the fun Thomas goes in search of his snow plow, but the snow has covered everything and Thomas soon becomes stuck in the thick snowfall. Emily uncovers his plow and rescues Thomas. Sir Topham Hatt is cross that Thomas hid his plow and makes Thomas clear the snow for Emily the next day!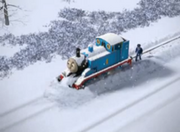 Some children also speak.