Millie is Sir Robert Norramby's private steam engine. She was introduced in the 2013 special, King of the Railway.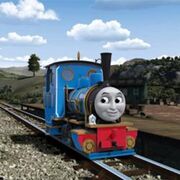 Bio
Millie is a bubbly French engine who is owned by Sir Robert Norramby and runs on narrow gauge lines. She lives and works at Ulfstead Castle where her duties include assisting the groundskeeper and taking visitors on tours of the estate. For this, she has her own open-topped carriage. While the Earl was travelling the world, Millie stayed in her shed at the castle.
Millie once swapped jobs with Luke. Although she struggled to adjust to start with, she ended up loving the Blue Mountain Quarry although she was pleased to return to her own job at the castle and even more pleased to have made friends with Luke.
Basis
Millie is a Decauville 0-4-0 well tank.
Livery
Millie is painted light blue with white lining, a golden running board and wheel spokes, and Sir Robert Norramby's crest on her cab sides.
Appearances
Television series
Specials:
Trivia
Millie is the second character to speak a different language, the first being Victor.
Millie has the same whistle sound as Lady.
Voice Actors
Miranda Raison (UK/US)